Hello everybody!
As you might have noticed, summer has ended and Ethan: Meteor Hunter is still not out! However, the game is definitely going to be released this October on PlayStation3 & PC-windows. In order to celebrate, we have launched a website fully dedicated to the game, with new screenshots and great wallpapers to download:
It is also the occasion to start the pre-order campaign for PC-Windows and announce the price of Ethan: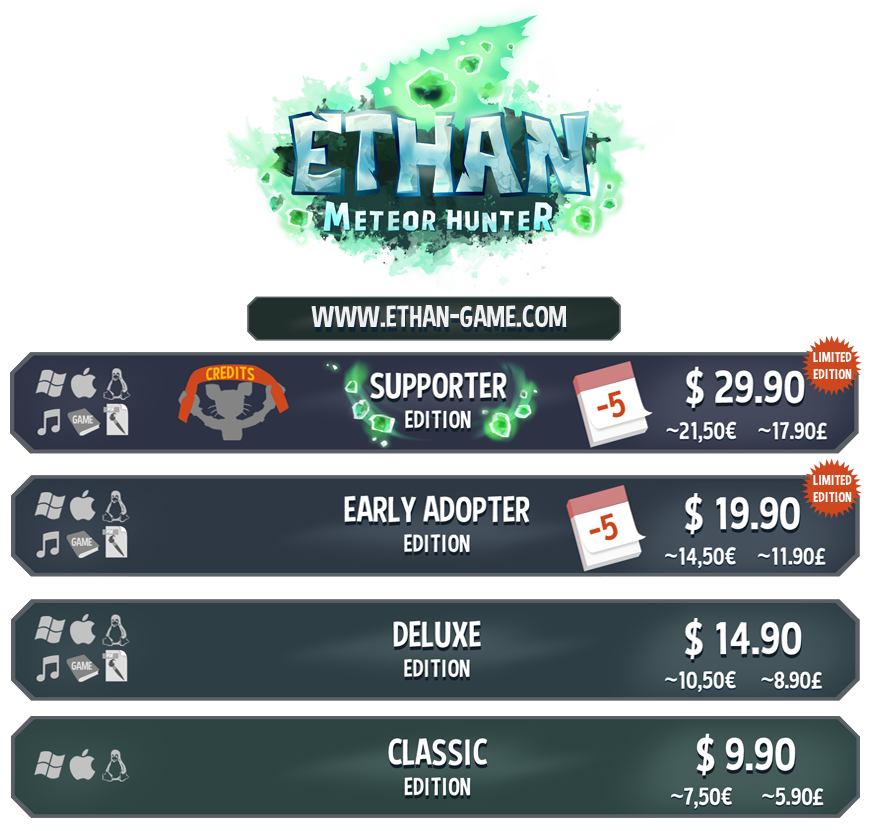 Classic Edition $9.90 = game DRM free (Windows version) of Ethan + Mac/Linux versions when released in 2014 + Steam Key if we get greenlit (upvote here https://www.seaven-studio.com/greenlight )
Deluxe Edition $14.90 = Classic Edition + soundtrack + games guide + artbook
Early Adopter $19.90 = Deluxe Edition available 5 days before release date!
Supporter Edition $29.90 = Early Adopter + a huge special thanks for support in the credits of the game on the PC version!
Supporter & Early adopter editions are limited edition, only for pre-orders: as soon as the game is out, only the classic & deluxe editions will be available. We'd like to highlight that buying from Ethan-game.com is better for us: we get more money than anywhere else. On a general basis, in order to support indies, it is always better to buy directly from them!
Side note: PlayStation 3 game will be 9.90$/€.
Also, new trailer! Here is a time-attack trailer of the press preview build:
Finally, a facebook page is up for the game: https://www.facebook.com/EthanMeteorHunter
Can't wait for you guys to finally enjoy the game : )